Trail Bike | Scott Genius 940 - Size M
Date: Sunday 2 aug 2020 - Sunday 11 Oct 2020
Show map
Size: Medium: 170 cm – 180 cm.
Now With 29" wheels, Syncros dropper post and Sram eagle 12 speed gearing. You can also adjust the 150 mm of travel from the handlebars with Scott's unique twinlock system. The genius is the perfect bike for a day's riding in our surrounding mountains.
These bikes are NOT to be used in the Bike Park.

Helmet and knee protections are always included when you rent trail bike with us.

Try out Hitfjell runden one of our many good trails in the area https://www.ut.no/tur/2.23337/
Show more
Book now - choose start date and product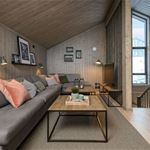 Hotels
Distance: 29.6 km
Cabins with an exquisite location at Kvitfjell Varden. 4 bedrooms, 10 beds, 2 bathrooms, sauna, ski in/ski out and fully equipped kitchen. Exclusively for our guests at Kvitfjell Varden is the comfort package that can be added in the shopping cart.
Hotels
Distance: 31.1 km
Practical apartments located at mellomstasjonen on Kvitfjell Øst. 2-4 bedrooms, 4-10 beds. Ski inn/out.
Hotels
Distance: 30.2 km
Krystallen clearly has the most spectacular view in Kvitfjell. Located at Kvitfjell Øst, next to mellomstasjonen. Ski in/ ski out and short distance to all facilities such as restaurants, afterski, pool and grocery.