167 - 180 cm | Scott Gambler 920 - Size M
Date: Wednesday 14 jul 2021 - Sunday 10 Oct 2021
Show map
Size: Medium: 167cm – 180cm (60kg – 80 kg)
The Scott gambler is a favorite among downhill riders the world over. With 29" wheels, 210 mm of suspension travel and powerful brakes, the Gambler is ready for anything.

A day in the Bike Park on one of these bikes is sure to put a smile on your face.

When renting a DH bike with us the most important protective gear is included. Such as Full-face helmet, knee/shin guards, body armor and a jersey!

Please read our terms and conditions for bike rental
https://www.hafjell.no/en/node/371
Show more
Book now - choose start date and product
Hotels
Distance: 12 meters
The cabins are located in a pleasant cabin area ski in / ski out to Hafjellbakken and trips with the Gondola that take you up the mountain to nice cross-country trails. It is walking distance to Øyer center with various shops, Sunday grocery stores and restaurants. In the summer you are well located close to activities such as Downhill cycling, Hunderfossen Family Park, Lilleputthammer and Lekeland. Great hiking opportunities in the mountains.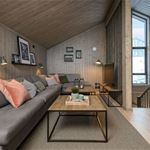 Hotels
Distance: 29.6 km
Cabins with an exquisite location at Kvitfjell Varden. 4 bedrooms, 10 beds, 2 bathrooms, sauna, ski in/ski out and fully equipped kitchen. Exclusively for our guests at Kvitfjell Varden is the comfort package that can be added in the shopping cart.
Hotels
Distance: 30.2 km
Krystallen clearly has the most spectacular view in Kvitfjell. Located at Kvitfjell Øst, next to mellomstasjonen. Ski in/ ski out and short distance to all facilities such as restaurants, afterski, pool and grocery.